ALBUMS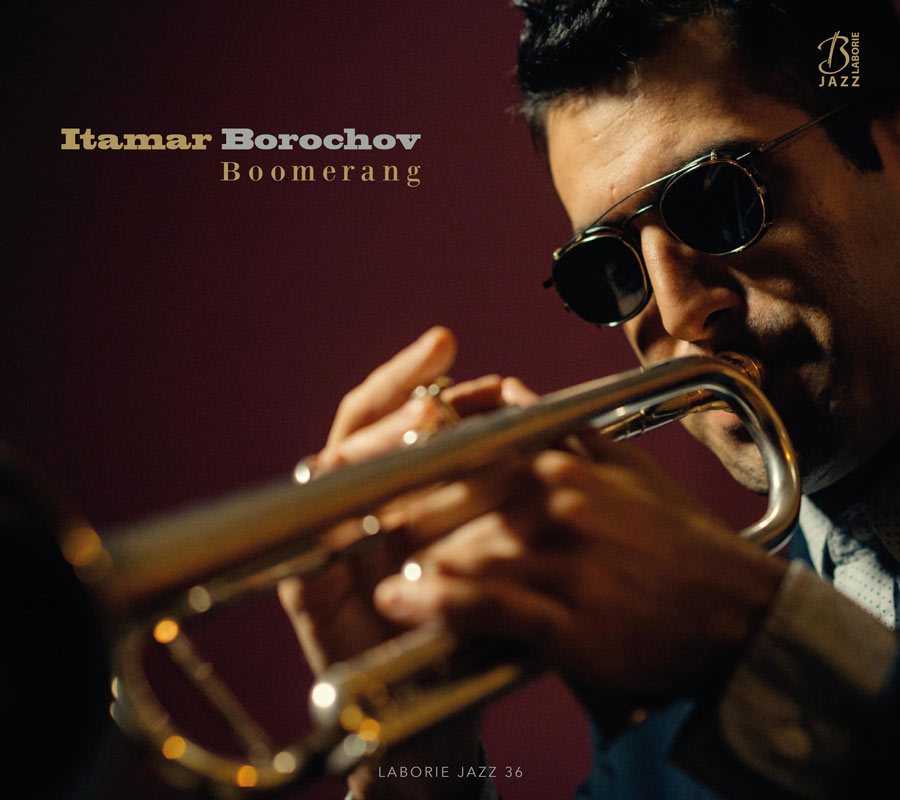 Release : october 7, 2016
In one century of jazz, none of the successive revolutionary aesthetic changes has been able to surpass this never-ending search for a true musicianship, the element that differentiates between technical brilliance and a true talent for music.
If he wanted to, trumpeter Itamar Borochov could awe the audiences by showing his virtuosity on his instrument. But at the age of 32, this Israeli-born but Brooklyn-based musician since 2007, a student of Junior Mance, Charles Tolliver or Cecil Bridgewater, has chosen to go further: telling a story that connects Lower Manhattan to North Africa, modern Israel and ancient Bukhara…
Born into a musical family, raised in the mixed Jewish-Christian-Muslim city of Jaffa, Itamar Borochov has always been faithful to this profuseness of influences: Edith Piaf, Weather Report, Nusrat Fatah Ali Khan or Prince have laid the foundations of a beneficial openness to music. His initiation was completed only when he entered the neighborhood Sephardi synagogue: there, Borochov absorbed sacred music based on Arabic scales and nourished of that centuries-old Jewish tradition.
His immersion in the New York jazz heritage in the early years of our century will convince him: "I have to be real. If Coltrane was informed by his father being a preacher, I had to do the same thing. Lee Morgan brought gospel and I'm bringing Sephardi synagogue music."
A kind of hybridizing approach that is no stranger to the DNA of jazz and identically present in Itamar Borochov's new album "Boomerang".
Itamar Borochov displays in it what he does best: putting forward his talents of proven melodist and musician inhabited by a higher spirit. And even though his hard-bop pedigree is on display in the compositional structures, the journey offered by Itamar (trumpet), his brother Avri (contrabass), Mickael King (piano) and Jay Sawyer (drums), no doubt refers to the image of the boomerang and its curved path: from Jaffa and the original piyyut in "Adon Olam", through West Village with "Jones Street", North Africa in "Ca Va Bien" with its Arabic malfuf and back through a "Jaffa's Tune" and its distinctly Middle-Eastern feel, a homage to his hometown.
A deep believer, Borochov also throws his authenticity into his search for "the Divine" even in the music he offers. He catches glimpses of it in various settings, both sacred and profane. Quite often, Boomerang ends up inhabited by a calling of the spirits typical of Moroccan religious-musical rituals, Jewish and Islamic alike.
So what is Itamar Borochov's story? According to him, "there's Divinity in the world. And it's something to aspire to – perfection is a reflection of Divinity. That's the role of virtuosity, really. Standing in the middle of a dirty street and aspiring to greatness. Because wherever there's greatness, from Bird to Miles to Coltrane, your experience is more intense, it can be overwhelming, you sense life on a deeper level."
TRACKLIST
1. Tangerines (2'41)
2. Shimshon (9'53)
3. Eastern Lullaby (1'57)
4. Jones Street (6'49)
5. Adon Olam (4'20)
6. Jaffa Tune (9'35)
7. Avri's Tune (3'03)
8. Ça va bien (4'45)
9. Wanderer Song (5'08)
10. Prayer (3'51)
TOTAL TIME : 52'16
All compositions by Itamar Borochov, except :
- ADON OLAM
Composition : Traditional Judeo-Algerian
Arrangement : Itamar Borochov, Nadav Remez
- WANDERER SONG
Composition : Traditional Bukhari
Arrangement : Itamar Borochov


MUSICIANS
Itamar Borochov : Trumpet / Voice (Track 9)
Michael King : Piano
Avri Borochov : Double bass
Oud (Tracks 8 & 9) / Sazbush & voice (Track 9)
Jay Sawyer : Drums

GUEST : Yisrael Borochov
Jumbush & voice (Track 9)
CREDITS
Produced by Laborie Jazz
Executive producer : Jean-Michel Leygonie
Recorded by Boris Darley at Studio Sextan
Assistant :
Mixed by Brian Montgomery
Mastered by Raphaël Jonin
Photos by Jean-Baptiste Millot
Artwork / Design by Martial Muller
Management & Booking International : Jean-Pierre Leduc - Lunched Records - Montréal, Québec - Tel. (+1) 514 247 0706 - www.lunchedrecords.com / This email address is being protected from spambots. You need JavaScript enabled to view it.
Booking : Didier Granet - 3D Family - Paris, France - Tel. +33 (0)1 40 09 64 66 - www.3dfamily.org / This email address is being protected from spambots. You need JavaScript enabled to view it.
Booking Germany : O-Tone Music - Gießen, Germany - Tel. +49 (0)641 - 9 48 89 30 - www.o-tonemusic.eu / This email address is being protected from spambots. You need JavaScript enabled to view it.
Public relations : I See Colors - Damien Besançon - Dominique Trémouille - Paris, France - Tel. (+33) 6 87 17 44 80 - www.iseecolors.fr / This email address is being protected from spambots. You need JavaScript enabled to view it.
Worldwide Digital Distribution by IDOL
Distribution by SOCADISC
AWARDS