ALBUMS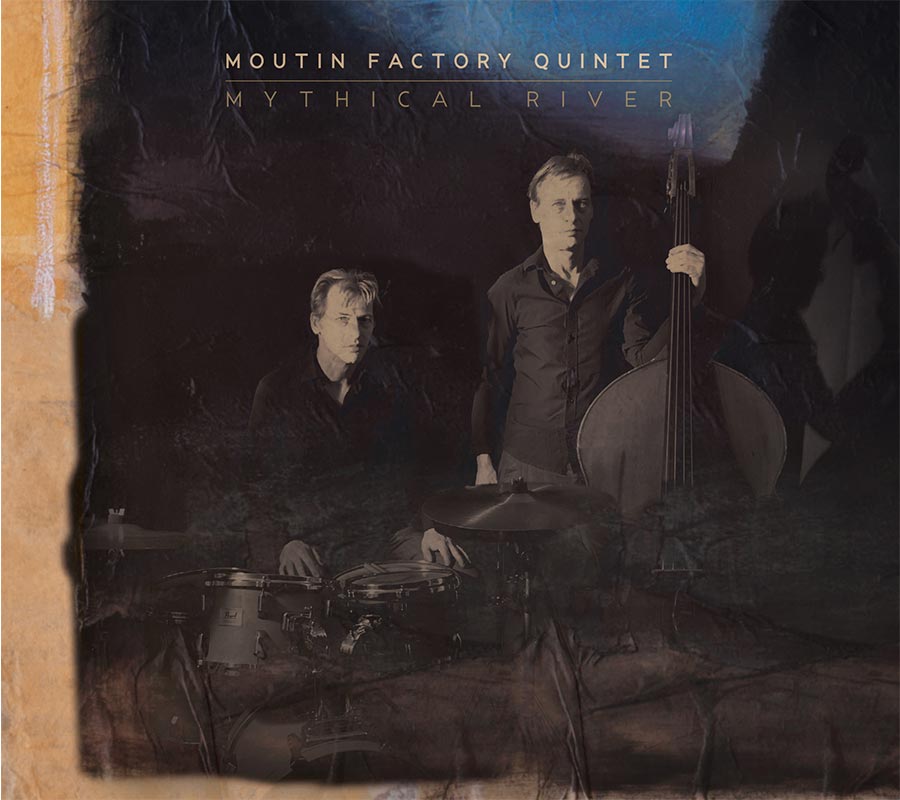 Release : may 17, 2019
It was after a trip that the Moutin Factory Quintet recorded "Mythical River".
When, just three days after setting foot on the soil of Paris, the group enters the studio, it still vibrates meetings and sensations of this two-week journey along the Mississippi River. For if the Moutin brothers' projects have been crisscrossing the United States for eighteen years, it was the first of their many American tours that, apart from a concert at the Lincoln Center in New York, focused almost entirely on this very special region. .
Chicago, Saint-Louis, Memphis, Baton Rouge, New Orleans, so many mythical places for jazzmen since they form the geographical melting pot from which the now universal musics come from - blues, jazz, soul, rock ... - who so strongly inspired the Moutin brothers and ignited in them an unquenchable fire.
All these musics have sprung from joys, sufferings, hopes and wanderings intimately linked to the invention of a "new world" and it is no coincidence that the Mississippi River - a key from a point of view historical, social and economic - has produced the "primal scream".
This energy, the vital forces that express themselves in it, the stories and emotions that are told about it, weave the backdrop of "Mythical River". In complicity with their so talented partners - Christophe Monniot, Manu Codjia and Paul Lay - François and Louis Moutin, during the eleven beaches of this new opus, we speak with intensity of human connection, fraternity, sharing, respect of the 'other.
Because today, at the dawn of the new digital world that is coming, with its promises of freedom and its dangers of alienation, the "new" questions are fundamentally of the same nature as those that made us sing the blues.
Therefore, it makes sense for these artists to express that we humans can move forward in respect of who we are and our environment
.
TRACKLIST
1. Forward (4'40)
2. No Human is Illegal (4'33)
3. Fight and Anger (4'41)
4. Tears and despair (5'09)
5. Summer Twilight (6'02)
6. Echoing (6'33)
7. Wayne's Medley (4'32)
8. Trauma (4'35)
9. Blessed and Cursed (6'16)
10. In Love (4'53)
11. Take it Easy (7'52)
Total Time : 59'53
MUSICIANS
François Moutin
- Acoustic upright bass - Composition
Louis Moutin
- Drums - Composition
Paul Lay
- Piano
Manu Codjia
- Electric guitar
Christophe Monniot
- Alto and sopranino saxophone
Back vocals - Axelle du Rouret (track#5) & Louis Moutin (tracks#5 and #7)
CREDITS
Tracks #2, #3 and #4 have originally been composed for the soundtrack of the documentary movie «No Human Is Illegal» by Richard Ledes and appear courtesy of Another Baseball LLC.
Christophe Monniot plays Selmer saxophones and Vandoren reed. Manu Codjia plays a Vendramini guitar.
Recorded by Julien Birot at Studio Sextan
Mixed by Julien Birot at Studio Such Production
Mastered by Julien Birot at Studio Such Production
Recording assistant : Arthur Gouret
Executive production : Association Oxyde
Artistic production : François Moutin & Louis Moutin
Under Exclusive Licence to Label Laborie Jazz
Paintings, drawings and photos by Axelle du Rouret
Artwork, design by Martial Muller
Worldwide Digital Distribution by IDOL
Distribution by SOCADISC