ALBUMS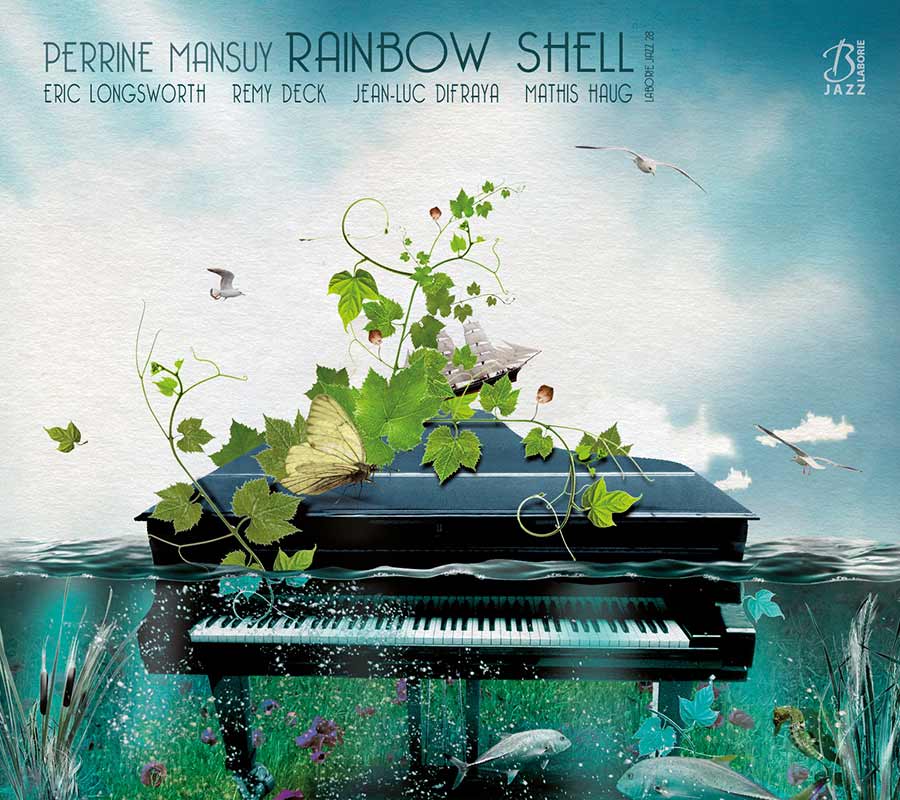 Release : february, 2016
With her new opus "Rainbow Shell", pianist Perrine Mansuy resolutely embarks on a pop way, a western "dream pop", following the footsteps of that tireless traveller, adventurous Katherine Mansfield. Always in search of light, the novelist hastened to live and write short forms, short stories for the most part, strong and seldom sentimental. Streaked with blues guitars and Rémy Decrouy's samples, always supported by the percussions of other fellow traveller Jean-Luc Difraya, cellist Eric Longsworth's arrival among the band colours the whole with new shades: fabulous sensitivity, romantic commitment ?
Enhancing Perrine's desire to let the primitive and cathartic inner song take over, Mathis Haug's hoarse voice confirms this trend, thus recreating a dreamlike and intimate universe. When she sings and plays her keyboards, Perrine increases energy, like a shaman. She dares confront the unknown and ventures to discover what we are without always knowing it.
Behind the story being played, the familiar becomes strange, music passes through the appearances and takes us to the other side of the "Magic Mirror", to a delicate and often thrilling universe. At other times, it dances with the wind and pirouettes with an uncommon energy like in this "Fly On", following this sailor who embarks on the ocean, in search of the mermaids. The writing of some of the songs clings to childhood, to the magic of encounters, to the unbearable lightness of things. The words just float, settle, take on their proper meaning. These are fugitive moments of life, ridges that come up to the surface of everyday life. Wonderful beaches that the pianist offers us, with her multifaceted songs, a permanent reflexion of what continually turns from light to dark.
Like in "The Piano", Jane Campion's film, another famous New Zealander, an inner voice rises, a seabed piano, and becomes a melody to which the wind and the sea answer in echoes. With a desire for freedom and the spiritual, the pianist tirelessly asserts herself through the music played by her instrument, yet refusing the ghetto of phrases such as "jazzwoman" and "woman's music". After "Mandragore & Noyau de pêche", "Délubies", "Vertigo Song", the musician has been able to gradually impose her style and this latest album, "Rainbow Shell", is further proof of that.
TRACKLIST
1. Dîner flottant (3'53)
2. Danse avec le vent (5'37)
3. Fly On (4'27)
4. Magic Mirror (3'56)
5. The River of no return (3'22)
6. Rainbow Shell (5'44)
7. Tomettes et plafond haut (4'52)
8. Paying my dues to the blues (3'33)
9. Three rivers & a hill to cross (6'15)
10. Ending Melody (3'16)
11. Le Songe du papillon (2'32)
TOTAL TIME : 48'06
MUSICIANS
Perrine Mansuy : Piano, composition, vocals
Jean-Luc Difraya : Percussions, vocals
Rémi Décrouy : Guitar, machines
Eric Longsworth : Cello
Mathis Haug : Vocals
CREDITS
Produced by Laborie Jazz
Executive producer : Jean-Michel Leygonie
Recorded by Boris Darley at Studio Laborie
Assistant : Fabien Lambré
Mixed by Boris Darley at Holy Oak Studio
Mastered by Raphaël Jonin
Illustrations by Emeline Cachein
Photos by Chris Boyer / Jean-Baptiste Millot
Artwork by Martial Muller
Booking : François Peyratout - www.nemomusic.com
Worldwide Digital Distribution : Idol
Distribution : Socadisc