ARTISTS
Sébastien Farge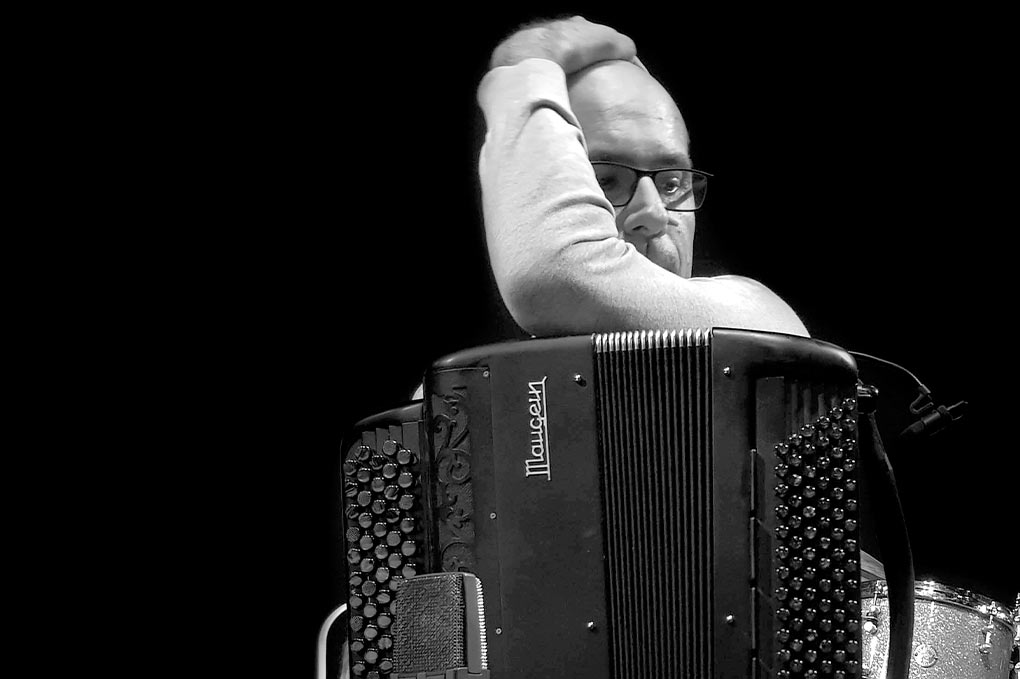 Young Sébastien Farge played his first notes on an accordion as he had just turned six, which quickly led him to the path of a child prodigy during which he won his first prizes in departmental and regional competitions.
At barely twenty, Sébastien was vice laureate of the French Cup and of the President of the Republic's prize. He received the "Jean Ségurel" prize of French chanson and French regions, as well as the World Accordion Trophy in Portugal.
A few years later, he was on festival stages in France, in Europe and on the other side of the Atlantic, and he accompanied blues-rock guitarist Ben Harper at the Olympia Club in Paris and also appeared in various great radio and TV shows.
In his early thirties, Sébastien Farge got the orchestration, harmony, fugue and counterpoint prizes at the Limoges CNR. He arranged, composed, ran master-classes and contributed to dozens of record projects.
At the age of forty, he became the Artistic Director of "Les Nuits de Nacre" (The Mother-of-Pearl Nights) in Tulle, one of the largest French festivals dedicated to accordion.
Although he is an accordion virtuoso, he remains committed to continue his training and teaching activities towards the future young generation of accordionists.
Being an accompanist and a soloist, his openness to all kinds of music allows him to experiment and discover the various musical genres: jazz, contemporary music, musette… Although very attached to the Limousin region, to the gorgeous "bruyères" of his native Corrèze, he keeps travelling across the boundaries and beyond, hungry for new encounters and new musical passions…
His album "Ségurel for ever", recorded at the label Laborie Jazz in 2014, was awarded in 2015 the "Grand Prix du Disque" for the prize "Gus Viseur".
MANAGEMENT / BOOKING

Musicart Productions
Aurélie Dandoy
Tel : +33 (0) 6 62 79 05 12
This email address is being protected from spambots. You need JavaScript enabled to view it.
PRESS OFFICE

SD Communication
Sylvie Durand
Tel : +33 (0) 6 12 13 66 20
This email address is being protected from spambots. You need JavaScript enabled to view it.
---
Albums